National and  Local News Articles About SolarGreenCompany.com 
---------------------------------------

National Solar Tour Puts Solar Energy On Display Across America

by Graham Jesmer, Staff Writer, October 10, 2008
New Hampshire, United States [RenewableEnergyWorld.com]

Sometimes the best way to educate the general public about new technology is to show them how it works in the real world. That's what the American Solar Energy Society (ASES) says is at the heart of its National Solar Tour, now in it's 13th year and taking place this weekend in cities and towns across America.
"It's not so much about seeing the technology but having the human to human contact. It adds a personal touch that is so much more powerful than any other way to expose people to solar that's out there,"
Neal Lurie, Director of Marketing, American Solar Energy Society
The National Solar Tour is a time when business- and homeowners using solar energy open their doors to the general public to show how they are using the latest solar technologies to reduce monthly energy bills, reduce carbon emissions and benefit from tax credits and cash incentives as they improve their property values.
Visitors are usually interested in going solar in the near future.
"The National Solar Tour is the nation's largest collection of solar customers ready to buy," said Neal Lurie, director of marketing for ASES. "Participants come in curious, but they leave convinced ready to go solar."
This year's event will take place in 49 states, Puerto Rico and Washington, D.C. and will feature more than 5,000 venues. ASES said that is is expecting close to 150,000 people to attend this year's event.
Richard Burns, manager of the National Solar Tour for ASES said that he was surprised at some of the states that started to fill up with tours on his map.
"There is a very large contingent of tours in Ohio and Kentucky that you wouldn't expect. There are some obvious markets where there are a lot of tours but the ones that are "off the map" so to speak are the most heartening," Burns said.
Venues include businesses and companies involved in the solar energy industry as well as many homeowners, many of who have a unique story to tell. Lurie said some of the participants this year include a third-generation oil man from Oklahoma, a newly married couple who, instead of registering for gifts for their wedding, asked guests to buy them solar panels, a retired couple from Boston who put some of their retirement money into a solar system and are now seeing higher returns than they would have had they invested in the financial market and a two-tour Iraqi war veteran who became disillusioned with fighting a war for oil and is now studying for his PhD in physics to, "fight in the renewable revolution - the war for energy independence."
Randy Stevens from SolarGreenCompany.com based in Arizona will also be participating in this year's event. He helped his retired parents install solar to power their condominium and electric golf cart.
"I remodeled their house in such a way that it would be an example that others could follow," Stevens said. "They had some extra money from the sale of their other home and, at their age, they might as well invest in something beneficial to them, future homeowners and the world. They viewed it as an investment alternative to CD's or the stock market. They wanted to see if they could make their home an income producing asset instead of just another money pit."
The Stevens home sits on an east/west axis and includes solar electric, solar water heating, solar daylighting and a solar-powered vehicle. The couple is not dependent on any outside source of energy including fuel for their vehicle.
Stevens said that he hopes people who see his parents home will realize that solar is a good investment to make not only for today but also for the future. He wants visitors to see that seniors such as his parents are making the choice to invest in tangible things like solar electricity and he says he also wants to show that solar is easy and its works.
"The installation of solar alternatives takes only a couple of days, the systems are not ugly, and they work. Most importantly they benefit everyone and are a legacy of benefit for the purchaser long after they are gone," Stevens said.
The tour has grown from a few hundred people in 1995 to 115,000 people last year. Lurie attributes the growth to the personal level that people like the Stevens bring to the tour.
"It's not so much about seeing the technology but having the human to human contact. It adds a personal touch that is so much more powerful than any other way to expose people to solar that's out there," Lurie said.
According to survey results from last year's National Solar Tour, 76% of participants said they were definitely or very likely to invest in solar or energy-efficient technology after the tour, compared to 50% before the tour.
The National Solar Tour will take place on Saturday, October 4, 2008 in most locations in conjunction with National Solar Energy Awareness Month, which takes place in October. Details on specific dates and times of tours across the nation can be found at NationalSolarTour.org
--------------------------------------------------

9.2.2008 9:39 AM
For Retirement Savings, Solar Power Is a Better Bet Than the Stock Market
Early Adopter Octogenarians Join National Solar Tour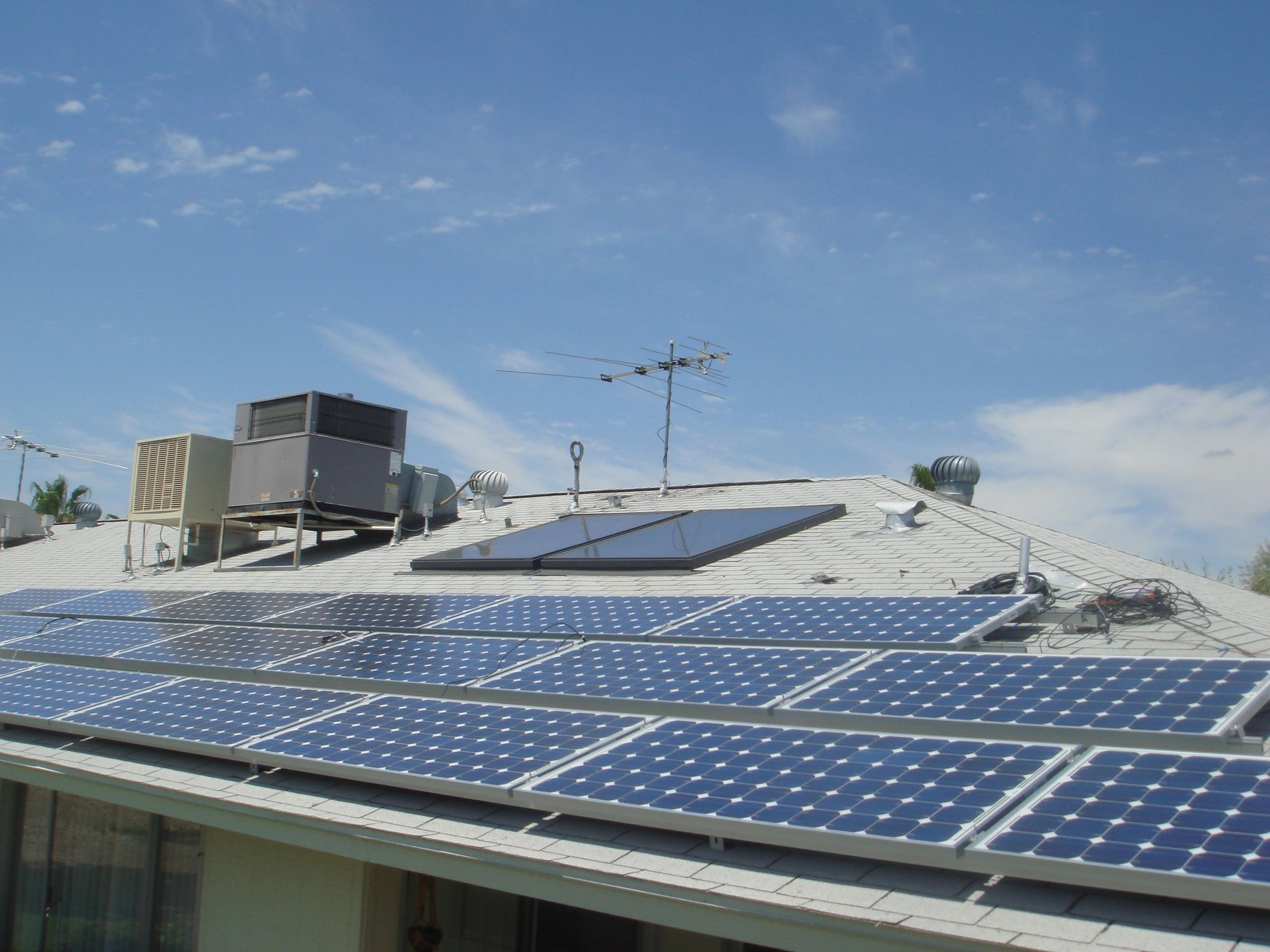 COMMUNITY NEWS
Editor's Note: This is part of a series. Click here for more articles about the National Solar Tour, and look for updates each Tuesday.
Of the 30,000 people who live in Phoenix's Sun City West retirement community, there are two senior citizens who have a particular affection for the sun -- even the scorching, 107-degree heat it brings to Arizona's dog days of summer.
Apparently, the affection is reciprocal. Through photovoltaic and solar thermal technologies, the sun is bringing the eighty-something couple noteworthy financial and social rewards.
The celebrated early-adopter octogenarians -- Newt and Inez Stevens -- moved to Phoenix from Alamosa, Colorado this past November to provide Inez (who at one point needed forced oxygen to help her breathe) with a lower elevation and a more temperate climate.
Today, Inez, a former nurse, is breathing easier. She and Newt, her husband of 55 years, are surrounded by family, beautiful vistas, golf courses and hundreds of active, engaging seniors. They are living large.
But their living expenses -- even with today's runaway energy costs -- are small.
Their remedy is simple: they've put the Arizona sun to work for them, and are harnessing its might in three ways:
1. to power their half of a 1,600 square foot ranch-style duplex
2. to heat their water, and
3. to charge their electric vehicle, replete with a solar canopy.
It brings them an enviable sense of energy independence, which they plan to openly share with neighbors during the non-profit American Solar Energy Society's (ASES) National Solar Tour this October.
The National Solar Tour coordinates open houses among solar homeowners, schools, businesses and public agencies to educate people about the solar technologies they are using to drastically reduce their monthly energy bills while improving property values. Last year, the National Solar Tour attracted 115,000 people in 46 states. It is the largest solar event in the history of the United States.
"For us, solar was a practical solution," said Newt, an 85-year-old retired welder. "Our primary motivation was economic," he said. The Stevens can run their air conditioner as much as they need to stay comfortable in the sweltering Arizona heat, without it costing them money or polluting the environment. "And if we produce more than we use, the power company will pay us the difference. We're seeing a better return on our investment than anything I can get at the banks or stock market. I'm tickled to death with it," he said. It also provides them with a secure, alternative source of energy in event of a power outage.
The Stevens' savvy solar strategies are further manifested in their primary mode of transportation: an electric, street-legal golf cart, replete with solar-paneled canopy.
"The solar vehicle is really nice. All it needs to do is sit in the sun for an hour a day and it's ready to go. It never has to be plugged in. And it generates electricity each time we use it. My gas vehicle for the most part sits idle, taking up space. There's no need to use it much (or go to the gas station) anymore," he added.
Pain at the pump is a thing of the past.
So just how significant are the Stevens' solar savings? With the help of their son Randy, they will recoup more than 50% the cost of their photovoltaic system this year -- $12,000 -- in the form of federal and state tax credits, and a healthy state power company rebate. Additionally, ongoing annual electricity savings will be around $865, a notable amount for seniors living on fixed incomes. Their solar water heating system will reduce their water bill by about 90%.
And then there are the social benefits. "We've had all kinds of folks stopping by to take a look and ask questions," says Newt. "Some come buzzing over in their gas-powered carts asking about solar. People love the concept. Yes, we've converted some folks -- they're snapping them up!"
Son Randy, principal of SolarGreenCompany.com, concurs. "My parents can't go out in their solar electric vehicle without being stopped," he said. "My dad will play a full 36 holes of golf in a day, run that cart all over the place trying to exhaust its power capacity, but he can't do it, as much as he tries!" No exhaust here, literally or figuratively.
Randy also lauds the people who run Sun City West for their foresightedness in embracing solar and encouraging it among their residents.
The bottom line for these early-adopters?
"It's gratifying and rewarding to establish a real-life example of how we can do something to help ourselves while also helping the environment," said Newt. "And it's not such a bad way to get to know the neighbors," he grinned.
The Steven's home -- and their solar canopied electric golf cart -- will be featured in the non-profit American Solar Energy Society's 13th Annual National Solar Tour on October 4, 2008. Learn about tours across the nation -- and the many tax incentives and cash rebates available for going solar at www.nationalsolartour.org.
The Daily Green's Community News section is a forum for our audience to get the word out about issues that matter to them, enlist support, get help and advice, celebrate successes or share humor. The best submissions are personal (why I started this venture) short and to the point (400 words or so) and written in a style that speaks directly to the audience as peers (not like an ad or press release). E-mail submissions to news@thedailygreen.com and include "community news" in the subject line. Photos are also welcome, provided the submitter has rights to publish the image. Be sure to include credit and caption information.
Submissions to The Daily Green are subject to our Privacy and Terms of Use policies.
Find this article at: http://www.thedailygreen.com/environmental-news/community-news/national-solar-tour-88090203